Summary of The Bondage of the Will
"The Bondage of the Will" by Martin Luther is a critical text in the history of Protestant theology and the Reformation movement.

Written in 1525, this treatise was a response to the humanist scholar Desiderius Erasmus's work "On Free Will," which defended the idea that humans possess the ability to choose between good and evil, and thus have some control over their own salvation. In contrast, Luther's work asserts that human beings are incapable of achieving salvation through their own free will and are entirely dependent on God's grace. This concept is central to the doctrine of predestination, which holds that God has already determined the fate of each individual and that faith alone, rather than good works or personal merit, is the key to salvation.

Luther's arguments in "The Bondage of the Will" are grounded in his interpretation of biblical texts, particularly from the writings of the Apostle Paul. He contends that human nature is inherently sinful and corrupt, and that any apparent good deeds or moral choices are merely the result of God's grace working through the individual. In this view, free will is an illusion, as all human actions are ultimately determined by God's will. This perspective was highly controversial at the time, as it directly challenged the teachings of the Roman Catholic Church, which emphasized the importance of good works and personal merit in achieving salvation. Luther's treatise played a significant role in shaping the theological foundations of the Reformation movement, as well as influencing later Protestant thinkers such as John Calvin and Jonathan Edwards.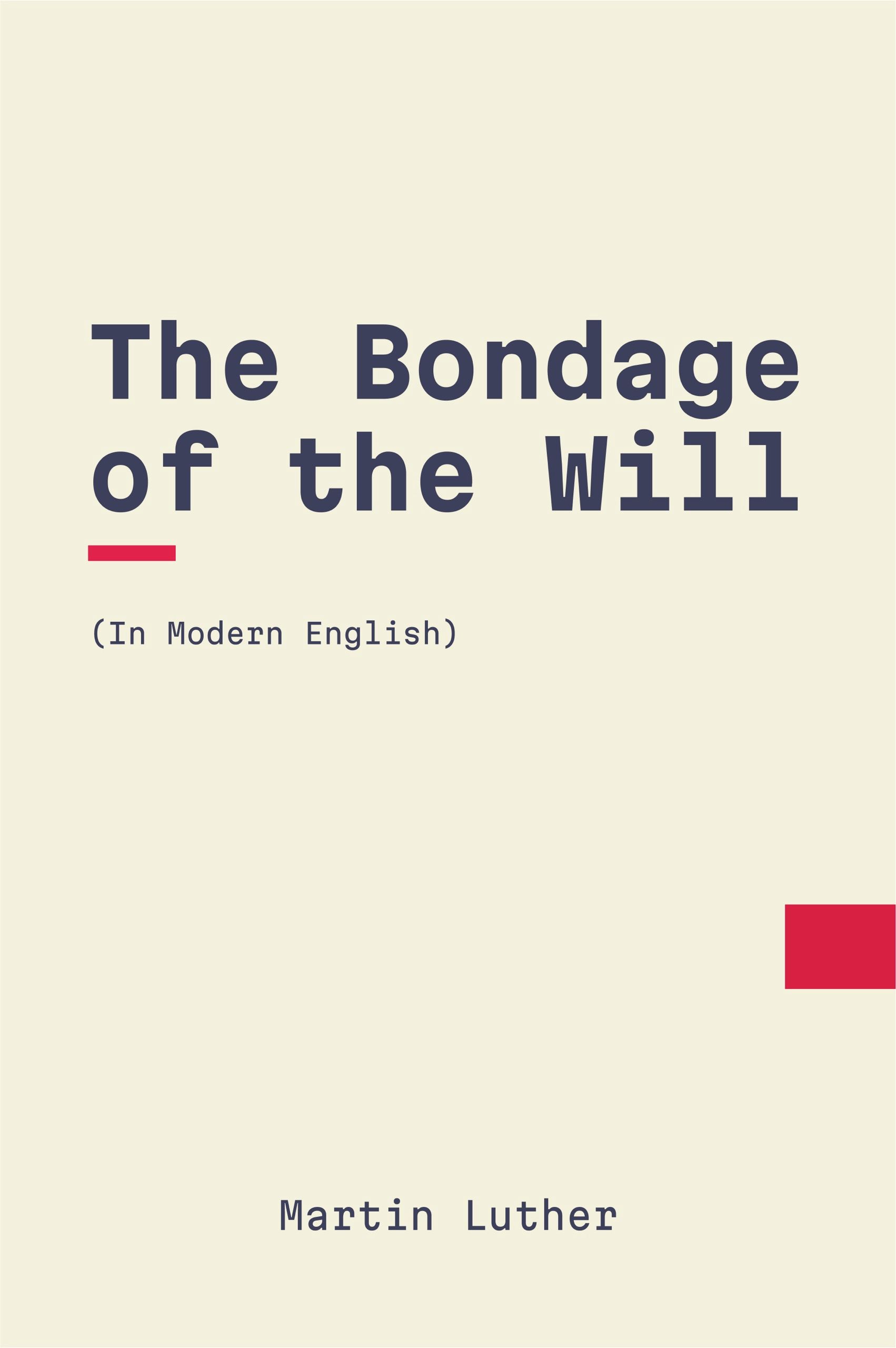 Want to support our work? All proceeds from book sales go towards supporting more translations.
Buy on Amazon
---
Preface
A Brief Biography of Martin Luther
I think it's important to give the reader some context about the circumstances under which this work was written. To do this, I'll provide a quick overview of Luther's history and its connection to Protestantism.
Martin Luther was born in 1483 in Isleben, Saxony. His father, who had worked in the Mansfield mines, later became a proprietor in them. This allowed him to educate his son with both a pious father's care and a wealthy father's generosity. After providing him with basic education in some lower-level schools, he sent Martin to the University of Erfurth at a young age. There, Martin excelled in classical learning, eloquence, and philosophy, and earned his Master of Arts degree at the age of twenty.
His parents had planned for him to become a lawyer, but after dedicating himself to studying civil law for a while, Martin suddenly left it behind and joined a convent in Erfurth. In the convent, he became known for his hard work, self-discipline, and conscientiousness, but he also struggled with intense fear of God. He was often sad and sometimes experienced extreme mental anguish.
During these difficult times, Martin sought advice from his vicar-general, Staupitius. Staupitius comforted him by suggesting that he didn't know how useful and necessary this trial might be for him. He told Martin, "God does not exercise you for nothing. You will one day see that he will employ you as his servant for great purposes."
The historian notes that the event greatly honored Staupitius' wisdom, and it's clear that a profound and genuine conviction of sin, which led Luther to explore the truths of Scripture and seek the path to peace, was the driving force behind his actions. This understanding of Luther's mindset is the only way to truly grasp the motives that guided him in his public life.
It wasn't until his second year living in the monastery that Luther stumbled upon a Latin Bible in the library, and for the first time, he realized that significant portions of the Scriptures were being kept from the people. During that same year, when he fell ill, an older monk in the convent provided him with great comfort by directing his attention to the valuable belief, "I believe in the remission of sins." Luther later said that Staupitius had spoken to him like an angel when he taught him that "true repentance begins with the love of righteousness and of God." However, the old monk guided him to the source of this love. There may be, and indeed is, a longing for righteousness and a search for God that paves the way for this love. But there can be no genuine righteousness achieved or love felt for it and for God until we are aware of His forgiveness.
The wise old monk explained to him that this belief didn't just imply a general faith - for even the devils had that kind of faith - but rather, it was God's command that each individual should apply the doctrine of the forgiveness of sins to their own specific situation. He pointed Luther to the writings of Bernard, Augustine, and St. Paul as evidence of this. With incredible passion, Luther devoted himself to studying the Scriptures and the works of Augustine. He later read other theologians, but he remained steadfast in his loyalty to Augustine until the very end.
In 1507, Luther received holy orders, and the following year, he was appointed as a Professor of Divinity at Wittemberg, thanks to the recommendation of his friend Staupitius. This allowed Luther to prove his own predictions about himself. It was during this time that he formed a connection with Elector Frederic of Saxony, which proved to be very helpful in his future struggles. Frederic was deeply concerned about the reputation and success of his new school, and Luther exceeded his expectations as both a philosophy teacher and a public minister. Luther was a natural orator, skilled at moving people's emotions, and had an exceptional understanding of the elegance and power of his native language, which made him the wonder of his age.
In 1510, Luther was sent to Rome on important business for his order. He performed his duties so well that he received a doctorate upon his return. While in Rome, he observed the way religious worship was conducted, noting its grandeur, haste, and political nature. He was grateful to return to his convent, where he could pray sincerely and passionately without being mocked. Luther then began a public exposition of the Psalms and Paul's Epistle to the Romans, studying Greek and Hebrew diligently. He refined his taste and expanded his knowledge by taking advantage of the philological work of Erasmus, to whom he always acknowledged his great debt.
Luther rejected the restrictive teachings of Aristotle and the Schoolmen, and instead of just tearing down existing ideas like a satirist, he sought to build a scriptural theology on the ruins of a paganized Christianity. The true light of understanding gradually dawned on his mind: he went from suspecting error to being convinced of its presence. As he was forced to reject these errors, he was led step by step into the truth.
So, he was deeply engaged in studying, thinking, teaching, and preaching with a conflicted mind. Once he had been given some unique opportunities to understand the true state of religion - among both clergy and laity in his own country - he couldn't help but focus on the topic of INDULGENCES. He hadn't approached it as a theory; he wasn't aware of the true nature, basis, components, or consequences of the issue.
As a confessor, he had to deal with admissions of sin; as a priest, he had to prescribe penances. The penitents refused to comply because they had dispensations in their pockets. What a masterpiece of Satan's work was this! It's not "Sin no more, lest something worse happens to you;" but rather, 'sin as much as you want, as long as you can pay for it.'
Luther wouldn't absolve them. The bold-faced Tetzel became furious and ordered his pile of wood to be set on fire, intending to strike fear into anyone who dared to think of being heretics. For now, Luther simply said with great gentleness from the pulpit that 'the people might be better employed than in running from place to place to obtain INDULGENCES.'
He was certain it was wrong; he would attempt to stop it; he would try with proper procedure, seeking help from the archbishop and bishop for a solution. He was so unaware of the main players, their assistants, and those even further down in the hierarchy involved in the trade, that he asked his own archbishop to put an end to it!
Look at how God operates. Ambition, vanity, and excess are used to expose the horrors of the Papacy, so that God can reveal Himself through His actions towards it. The magnificent temple, which had previously been built to amaze people rather than for the praise and worship of God, must continue to be constructed - even though not a single bit could be taken away from Leo's pomp, sensuality, and splendor, despite his treasury already being empty. Reckless necessity leads him to a solution which, while it exposes his own character and the principles of the government he oversees, would likely prompt at least some to question the authority by which they were asked to tolerate such atrocities.
This method wasn't new, as Julius had used it before Leo. However, it had never been so widely and blatantly practiced as in this instance. It involved profiting from religion by selling merits for money—not only by pardoning but even legalizing the contempt and defiance of God through the distribution of certain extra riches of Christ and his saints, to which the Pope has the key. The price demanded varied with the buyer's circumstances, so that people of all ranks could benefit. In fact, all classes of people were made to contribute to ecclesiastical corruption, while the notorious Dominican Tetzel could claim that he had saved more souls from hell with his Indulgences than St. Peter had converted to Christianity through his preaching.
Luther investigated, studied, prayed, and called on his rulers. Eventually, receiving no help but only silence or warnings from authorities, he published his ninety-five theses or doctrinal propositions on the subject. These spread with a remarkable impact and effect throughout all of Germany in just fifteen days.
Tetzel responded with one hundred and six theses, which led to sermons in reply and counter-reply. Luther was so dutiful, sincere, and confident in the truth that he sent his publications to his superiors in the church—his diocesan and his vicar-general—asking the vicar-general to forward them to the Pope. The issue was now out in the open. New opponents emerged, and Luther was thorough and restrained in his responses. Eventually, Leo was provoked. He had praised Brother Martin for his excellent intellect and attributed the dispute to monastic jealousy—a rivalry between the Dominicans and the Augustinians. But now, within sixty days, Luther had to appear in Rome to defend himself. In fact, he was already condemned as an unrepentant heretic without trial in the apostolic chamber in Rome—even before the summons reached him.
Through the help of his influential friend, the elector, Luther managed to get a hearing in Augsburg (if you can even call it a hearing), which only allowed him to admit his crime and recant. However, this was the kind of justice and judgment Luther faced from Cajetan.
After submitting as much as he could without actually writing the six letters (REVOCO) that would have resolved everything - even though there were other important issues besides the Indulgences - Luther left his arrogant and dismissive judge with an appeal that he made sure was officially recorded: "from the Pope ill-informed, to the same most holy Leo X, when better informed."
During his various meetings in Augsburg, both written and verbal, Luther firmly stood on his belief in scripture over all papal decrees. It was his triumph on this occasion that he defended this belief even in the face of the usurper's representative. A humble monk, as the cardinal condescendingly called him, respectfully followed and acted on the same principle that two apostles had used before him: "We ought to obey God rather than men." (Acts 5:29)
Cajetan didn't gain any respect in Rome for his negotiations in Augsburg. The papal advisors complained that he had been harsh and ungenerous when he should have offered wealth, a bishopric, and a cardinal's hat. These were the temptations they thought would sway Luther! (Romans 12:20) When he returned to Wittenberg at the end of 1518, Luther considered leaving Germany for France. However, the elector stopped him and urgently asked Emperor Maximilian to step in and help settle the controversy.
Meanwhile, Luther renewed his appeal to the Pope. Surprisingly, this was followed by a new bull in favor of Indulgences, confirming all the old abuses and not even mentioning Luther's name. In his current state of mind, still clinging to the Pope's authority, this document was timely. It made it impossible for Luther to retreat. Maximilian's death in early 1519 increased the elector's power to protect Luther during the interregnum and led to more lenient measures in Rome. A polite Saxon knight replaced the domineering Dominican.
"Martin," he said, "I thought you were some reclusive old theologian, but I find you to be a person full of life. Moreover, you have such popular support that I couldn't force you to come with me to Rome even with the help of 25,000 soldiers."
Luther was resolute, though softened. He had no objection to writing submissively to the Pope. At that point, he still recognized the Pope's authority, and it was a principle for him to show respect to his superiors and obey "the powers that be," Rom 13.1 in lawful matters if lawfully constituted.
The famous debates at Leipzig took place in July 1519. Here, Luther, who had been denied a safe conduct if he tried to appear as a debater, was finally allowed to defend Carolstadt's half-defended cause and speak for himself against one of the most learned, eloquent, and bitter papal opponents. Eckius, Luther's former friend, had come to earn laurels for himself and strength for the Papacy. But it was God who granted victory to the truth and used this occasion to provide Luther with many capable allies. Melancthon's approval of Luther's doctrine and his personal attachment to Luther were the results of this encounter.
"In Wittenberg, Melancthon was probably well acquainted with Luther's lectures on theology. But it was in the citadel of Leipzig that he heard the Roman Catholic beliefs defended by all the arguments that ingenuity could devise. There, his suspicions grew about the evils of the existing hierarchy, and his righteous spirit was stirred to imitate, in the grand objective of his future inquiries and efforts, the tireless endeavors of his zealous and daring friend."
It was here that the issue of papal supremacy first became a topic of debate. The act of granting indulgences implied the right, but the principle was now introduced by Eckius, with malicious intent, to cast scandal upon Luther, who at the time "saw men, but as trees, walking" (Mk 8.24). Luther even defended the Pope's supremacy, though on weaker grounds. He attributed it to human-based reasons: divine permission and the consent of the faithful. Although Eckius' thirteen propositions and Luther's opposing ones mainly focused on papal authority, they also covered other subjects. Many significant and widely relevant issues were brought up and debated during the discussion.
On all the debated topics, Luther demonstrated a mind that was receptive to the truth, as in the example just mentioned. However, it is uncertain whether he was fully enlightened to any truth at this point. Even on justification and free will, although he held the essence of what he later taught, he did not use the same arguments or defense methods. Here is his own account, as provided in the preface to his works:
"My own case," he says, "is a notable example of the difficulty with which a man emerges from long-standing erroneous notions. How true is the proverb, custom is a second nature! How true is Augustine's saying that habit, if not resisted, becomes necessity! I had taught divinity both publicly and privately with great diligence for seven years, to the point where I could recall almost every word of my lectures from memory. But in reality, at that time, I had only just begun to understand and believe in Christ. I had only recently learned that a person must be justified and saved not by their actions, but by their faith in Christ. And finally, regarding the Pope's authority, although I publicly argued that the Pope was not the head of the church by divine right, I still struggled with the idea that the entire papal system was a creation of Satan. I didn't see it that way, but stubbornly fought for the Pope's right based on human reasoning. I was so deceived by the example of others, the title of the Holy Church, and my own habits. Because of this, I've learned to be more understanding towards devoted Catholics, especially if they're not well-versed in religious or even secular history."
After the debate, Luther calmly reviewed his own thirteen propositions and published them with brief explanations and evidence, mainly relying on Scripture and church history to support his conclusions. These intellectual battles of the past were the foundation for the reawakening church. The people listened, and the people read. And so, according to Luther's favorite principle, the stone that will destroy the Antichrist was cut out without hands.
In 1520, Miltitz advised Luther to write a second letter to the Pope. As Luther's understanding of the truth grew, he found it challenging to write this letter honestly, and it's debatable whether he succeeded in his attempt. He had already told his friend that he strongly believed the Pope was the real Antichrist. Luther said, "The lives and behavior of the Popes, their actions, their decrees, all agree most wonderfully to the descriptions of him in Holy Writ." So, how could he still approach the Pope as his authorized leader and desired protector, flatter him, and propose terms of mutual silence?
It's true that the tone of his letter changed compared to his previous one. He pointed out many of the wrongdoings in the Pope's government, explicitly refused to recant, and insisted on his essential principle: "perfect freedom in interpreting the word of God."
He is also particularly wise, fair, straightforward, and powerful in warning the Pope against the grandiose words his flatterers use to praise him: "O my people, those who call you BLESSED lead you astray." However, we would prefer to see more honesty and fewer compliments, for example, not so subtly separating the person from the office, the man from his court; withholding wishes and prayers for good when he began to believe that only curse and destruction could follow. The only reasonable defense is that his mind was not yet FULLY made up about the Pope. He had doubts; he thought he was obligated to go to the utmost in efforts to reconcile; such an appeal would be a test. In evaluating the correctness of this action, it is clear that everything depends on the amount of enlightenment that had reached his mind at that time. But, having written to Spalatinus as he did earlier in the same year, and later writing his treatise on the necessity of reformation in June, and his Babylonian Captivity in August, it is hard to imagine that, in the intervening time, he would have maintained a mindset that, consistent with simplicity, could dictate his, or any letter of accommodation to Leo.
Eventually, however, having thoroughly tested his David, and having convinced him of his foolishness, the Lord completely removed it from Luther while sealing up his enemies in theirs. Never was there a more evident example of Jewish blindness and hardening than in the Conclave's decisions at this time. — "He has blinded their eyes and hardened their heart" Joh 12.40 — Leo refuses to be appeased. After a three-year delay, when Lutheranism had grown to a size and strength that no fire can burn, the condemnatory bull is issued on June 15, 1520, in Rome. And after a brief period of mysterious silence, it is published in Germany.
The text discusses how 41 propositions were extracted from Luther's writings, all deemed heretical. The reading of his books was forbidden, and they were ordered to be burned. Luther was excommunicated, and secular princes were asked to help arrest him. However, Luther was ready for this, as he had formed a judgment about the papal usurpation and was willing to suffer martyrdom for the truth if necessary. The conflict had officially begun.
Luther responded by publishing two tracts. In one, he treated the bull ironically, questioning its authenticity but still calling it the "execrable bull of Antichrist" and urging the emperor and Christian princes to defend the church against the Papists. In the other tract, he seriously addressed the 41 condemned articles, defending the authority of Scripture and encouraging everyone to study it without relying on the interpretations of others.
After responding to the bull, Luther demonstrated his defiance by burning it, along with the papal decretals and parts of the canon law related to pontifical jurisdiction. This act was not done out of anger but rather from a place of calm conviction. He then selected 30 articles from the burned books, published them with brief commentary, and asked the public if he had shown them less respect than they deserved. The last two articles included one stating that the Pope has the power to interpret Scripture and teach as he pleases, and no one is allowed to interpret it differently.
Article 30, etc., states, "The Pope does not derive authority from the Scripture, but the Scripture derives authority, power, and dignity from the Pope." The speaker claimed to have more of a similar kind. If we assume his cause was just, then his bold actions were undoubtedly right. His situation called for decisive measures. He was either a candidate for burning at the stake or a defender of the oppressed. What kind of defender? Not by the sword of a knight-errant, but by actions that showed his sincerity and arguments that proved he had a valid reason.
During this time and the two years prior, he published countless works. He knew his life was at risk, so he valued the limited time he believed he had. The cause of Christ, which he felt was entrusted to him, was to be upheld, expanded, and ultimately made victorious only by the nonviolent sword of the Spirit. He would wield that sword with all his strength, without stopping, weakening, or growing tired. His primary hope was in the word of God, presented simply and clearly. He added short practical and experiential writings (appealing to common sense and Scripture), but the explained word was his foundation. This is why he put so much effort into the Epistle to the Galatians, which he first published in 1519. After fifteen more years of research, during which he lectured on the subject, he revised, corrected, expanded, and reissued it in 1635. His devout, hardworking, and philosophical historian says:
"I have read and pondered this treatise many times, and after much thought, I am convinced that, as it was one of the most effective means of reviving the light of Scripture in the sixteenth century, it will, with God's blessing, be able to do the same in any age when people are willing to consider the divine truth and when souls are troubled by a sense of their own sinfulness. I'm not sure if this will be appreciated by anyone other than those who are serious, humble, and truly sorry for their mistakes. These are the only people who will find the crucial topic of justification worth accepting. The AUTHOR had deeply explored the human heart and understood its inherent flaws. He had spent a long time trying to find peace of mind through following rules and doing good deeds, but it was only when he discovered the spiritual aspect of justification that he found relief from his intense anxiety. He was chosen by Providence, not just among other reformers, but in a more extraordinary and superior way, to teach humanity this essential religious belief after it had been hidden for over a thousand years. Compared to this, all other subjects of debate seem insignificant! The main point is that we are not justified by our actions, but by our faith in Christ."
I can't resist sharing a quote from this truly spiritual work:
"This teaching about faith must be presented in its purest form. As a believer, you are so completely united with Christ through faith that you become one with him, as if you were the same person. You cannot be separated from Christ; instead, you remain so closely connected to him that you can confidently say, "I am one with Christ." This means that his righteousness, his victory, his life, death, and resurrection all belong to me. On the other hand, Christ can say, "I am that sinner." In other words, my sins, death, and punishment belong to Christ because he is united and connected to me, and I am connected to him. Our faith joins us together so closely that we become one flesh and one bone. We are part of his body, his flesh, and his bones. In fact, the connection between Christ and me is even stronger than the bond between husband and wife, who are considered as one flesh. This faith, therefore, is not at all an ineffective quality; in fact, it has such great excellence that it completely confounds and destroys the foolish ideas and imaginations of the Sophists, who have come up with numerous metaphysical theories about faith, charity, merits, and qualifications. These things are so important that I would love to explain them more thoroughly if I could."
Luther faced many opponents in his battles. His bold statements were clear, logical, and decisive, and his responses to those who attacked them were quick, strong, and complete. He didn't avoid, delay, or hold back. His admirer, the historian, feels the need to apologize for Luther's intensity and harshness. I don't agree with the need for an apology. God, who created Luther, gave him his language. His language was suitable for his situation, his time, and his audience. Such writings were needed and would be read; they stirred up the powerful and were understood by the common people. Luther's own description of himself, given later, is worth more than a thousand apologies. He says,
"I am born to be a rough debater. I clear the ground, pull up weeds, fill up ditches, and smooth the roads. But to build, to plant, to sow, to water, and to beautify the countryside belongs, by the grace of God, to Melancthon."
If Luther had a spirit of bitter hatred and cold-hearted malice towards his opponents, then he should be condemned. But we all know that harsh words can be spoken without any malicious intent, and a smooth tongue can often hide a poisonous spirit. I am more inclined to take issue with his vanity than with his irritability.
The obligations that Charles V owed to Frederic were significant enough to ensure some level of protection for Luther. Charles V didn't really care about Luther's opinions, even though his own biases likely leaned towards the old system. He was more concerned with the political implications of the situation. It was clear that the elector's friend, Luther, should not be condemned without a fair hearing. So, after much negotiation and correspondence, it was agreed that Luther would appear at Worms.
Frederic, being a wise protector, managed to get Charles to expressly renounce the principle that "faith is not to be kept with heretics." Several princes co-signed Luther's safe conduct, and Luther boldly preached his way to Worms, as if to confront as many devils as there were tiles on the houses of the chosen city.
Luther's defense at Worms has sometimes been disappointing, and he himself seemed to feel that he had been too cautious and vague. Later, when he spoke of his boldness (shortly before his death), he questioned whether he should have been so daring at that time and gave credit to God for his courage. Many historians have celebrated this fact in relation to his determination to proceed to Worms, despite the strong discouragement he faced along the way.
It's believed that God, who created man's mouth and gives him wisdom, and who has promised for such occasions, "I will give you a mouth and wisdom which all your adversaries shall not be able to challenge or resist" (Luke 21:15), guided Luther's speech with perfect wisdom during that challenging time. The speech he delivered was appropriate for the situation and the time. However, the question remains: was it the speech we would have expected from Luther?
We acknowledge that there may never have been such a moment, possibly since the days of the Apostles. All the grandeur of Caesar was before him. But, it must be admitted that there is more of the influence of Frederic, Spalatinus, and Melancthon in Luther's speech than of Paul before Felix or Peter and John before the council.
Listen to his own words:
"I have serious doubts (he says in a letter to Spalatinus a few months later) and my conscience is deeply troubled because, following your advice and that of some other friends, I held back my spirit at Worms and didn't act like an Elijah, confronting those idols. If I were ever to face that audience again, they would hear very different words from me." And again:
"To please certain friends and not to seem unreasonably stubborn, I didn't speak up at the Diet of Worms. I didn't stand up to the tyrants with the strong determination and energy that a defender of the Gospel should have! Also, I'm tired of being praised for the restraint I showed on that occasion."
The dean thinks it's all due to humility, but I have no doubt that there was a lot of well-founded and conscientious self-criticism in these admissions. However, he stood by his principle: the free use of the word — the Scripture is for everyone, and everyone has the right to interpret it freely. He would only change his mind if convinced by Scripture, but not otherwise. When told that he needed to clearly state whether he would or would not retract his views, Luther immediately said, "My answer will be straightforward and clear. I don't feel obligated to believe either the Pope or his councils, because it's obvious that they have not only made mistakes but also contradicted themselves many times. So, unless I'm convinced by Scripture or clear reasoning, my belief is so solidified by the scriptural passages I've presented, and my conscience is so committed to following the word of God, that I can't and won't take back anything — because going against one's conscience is neither safe nor innocent."
There's something especially moving about the words that follow:
"Here I stand, I can't do otherwise. May God help me. Amen."
People tried many times to convince him privately, but in the end, he decided to stick to the word, saying, "rather than give up the word of God, when the case is quite clear: I WOULD LOSE MY LIFE."
In just three hours after his last meeting with the Archbishop of Treves (who, despite being a devout Roman Catholic, had shown a strong inclination to help him), Luther received an order to leave Worms. He was only granted twenty-one days of safe passage and was not allowed to preach on his journey home. A bloody edict was then secretly pushed through the diet: many of the members had already left Worms before it was voted on. The enactment ceremony took place in the emperor's private quarters; the decree was backdated, as if it had been passed on the 8th instead of the 21st, and Aleander, the Pope's representative and Luther's accuser, who had been quite troubled by the immense consideration and respect shown to Luther, received it as a sort of consolation and sedative from the emperor, so that he could draft the sentence.
As expected, Aleander wrote the edict with great bitterness and hostility. The first part states that it is the emperor's duty to protect religion and eliminate heresies. The second part describes the efforts made to bring the heretic back to repentance. The third part strongly condemns Martin Luther. The emperor, with the advice of the electors, princes, orders, and states of the empire, decides to carry out the Pope's sentence, as the Pope is the proper guardian of the Catholic faith. He declares that Luther must be considered excommunicated and a notorious heretic, and forbids anyone from receiving, supporting, or protecting him under penalty of high treason. He orders that after the twenty-one days allowed to him, Luther should be pursued wherever he may be, or at least be arrested and held prisoner until the emperor's wishes are known. He directs the same punishment for all of Luther's followers or supporters, and orders their goods to be confiscated unless they can prove they have left his side and received absolution. He forbids anyone from printing, selling, buying, or reading any of Luther's books, and instructs the princes and magistrates to burn them.
However, this grand decree was never carried out. Charles was too preoccupied, entangled in complex and conflicting politics, and too dependent and needy to take revenge for the Pope in Germany at the time. In 1522, a diet of the empire held in Nuremberg agreed to a conclusion that Luther saw as an abrogation of the decree. In 1523, a second diet held in the same place, after some significant differences of opinion, reached a similar decision. The Lutherans were divided between hope and fear, experiencing ups and downs over the following years. In 1526, when bad outcomes were expected, the diet of Spires, after much disagreement, ended favorably. However, the Pope's anger was only postponed.
In 1529, a second diet at Spires almost established the overlooked Edict of Worms. The aggressive way it was conducted led to a protest from the Lutheran states and princes (from which we get the name "Protestants") and resulted in the famous defensive alliance of Smalcalde. The Augsburg decree in 1530 only confirmed the need for this alliance.
Even the most moderate statements of belief and careful behavior had no calming effect; force was being prepared, and it had to be countered with military cooperation. However, it's not by human strength or might that the Lord wins battles. That powerful alliance, which could bring 70,000 men to the battlefield under the leadership of John the Constant, to face only 8,000 of the emperor's men, quickly dissolved like winter snow. In 1547, the emperor conquered everything, captured the two main Protestant leaders, and displayed them to their followers. He established his Interim, killed the Protestant witnesses, and claimed to be the master of the "Man of Sin" (2 Thessalonians 2:3) in his control over the Lord's people.
But look! In three and a half years, the witnesses "whose dead bodies have been lying in the street of the great city, which spiritually is called Sodom and Egypt, where also our Lord was crucified" (Revelation 11:8) - even in that Germany which has been called the highway of Europe - are seen standing on their feet again. The deceitful and scheming Maurice is used to bring deliverance to the Protestants. The emperor in turn becomes a fugitive, filled with panic, and is extremely close to being captured by those he once held captive. Finally, the unexpected Treaty of Passan legalizes Protestantism and ensures a place in the symbolic heavens for the revived witnesses.
In 1546, Luther was taken away from both the disasters and victories of these later events due to a quick illness and early death. Exhaustion and stress had weakened his naturally strong and healthy body, and he passed away as an old man at the age of sixty-three.
The storm that had gathered around Luther's head at Worms was initially repelled by a clever strategy of the elector, which he likely shared secretly with the emperor himself. By staging a fake arrest while Luther was on his way back to Wittenberg, Frederick was able to hide him in Wartburg Castle, where he provided for him for ten months. He would have continued to do so for the rest of Luther's life if he had allowed it. In this hiding place, which Luther called his "Patmos" and compared himself to St. John who was exiled to that island by Domitian, he experienced many visions from God that guided his future ministry.
Luther showed some impatience during his time in hiding. He complained that his kind captor fed him too well, causing him to eat and drink too much, and making him feel dull and sensual. However, the truth seems to be that he thrived on activity and excitement. He didn't enjoy hunting as much as lecturing to hundreds of young men and preaching to thousands.
During this time, however, God nurtured Luther and made him wiser in the art of caring for his followers. Although he may have felt dull and heavy, he was not idle. Dressed as a horseman, he wrote many tracts, improved his knowledge of Greek and Hebrew with the goal of translating the Scriptures, and actually completed his German translation of the New Testament, publishing it that same year. These accomplishments were certainly not the result of laziness or indulgence!
During this period, one of Luther's most elaborate original works was his response to Latomus' defense of the Louvain divines. Seckendorff describes it as a confutation filled with solid learning and sound divinity, making it impossible to reply without resorting to obvious nitpicking or outright impiety. He claims that even if Luther had never published anything else in his life, this single work would be enough to compare him to the greatest divines in the church's history.
At the time of writing, Luther only had the Bible as a reference. Yet, he managed to interpret key passages from the Prophets and the Apostles, debunking the misleading interpretations of sophistical commentators with such skill and erudition that the true meaning of the inspired writers becomes clear to any devout and attentive reader. He dedicated the work to Justus Jonas, who had recently been appointed president of the College of Wittemberg, offering it as a sort of congratulatory gift.
In the dedication, Luther expresses his hope that Jonas, who is now responsible for teaching the harmful decrees of Antichrist, will be guided by the Spirit of God to do his duty – that is, to unteach everything related to Popery. He encourages Jonas to remain strong and courageous, not fearing Baal-peor, but believing in the Lord Jesus, who is blessed forevermore. Amen.
In this treatise, Luther defends himself against accusations of insincerity for having submitted to the Pope and the accepted opinions for so long. He expresses his regret for doing so, his gratitude to the Lord Jesus Christ for the insight he gained into the Scriptures – which he considers far superior to the scholastic divinity of the time – and his firm belief that the Pope is the Antichrist prophesied throughout the sacred writings.
He says he doesn't care if people accuse him of not being moderate. As for sedition, it's the same thing the Jews accused Christ of. The main issue at hand, he argues, is "THE NATURE OF SIN."
"If the quotes I've used from St. Paul don't actually mean SIN in the way we understand it, then my whole argument falls apart. But if that's not the case, then Latomus' objections don't hold up. He criticizes me for saying that no human action can withstand God's judgment. I say he should be scared to argue the opposite. Let's say someone could actually claim they've done a good deed that fully follows God's command. That person might tell God something like this: 'Look, Lord, with your help, I did this good thing. There's no sin in it, no flaws, and it doesn't need your forgiveness. So, in this case, I'm not asking for it. I want you to judge this action fairly and without bias. I'm confident that, since you're just and true, you can't condemn it. So, I take pride in it before you. Jesus' prayer teaches me to ask for forgiveness for my wrongs. But for this action, I don't need mercy to forgive sin; I need justice to reward my good deed.'"
This kind of arrogant, un-Christian thinking comes from the pride of the scholastic system! The idea that human actions can be sinlessly perfect isn't supported by the Bible. It's based on a few quotes from the Church Fathers, who don't even agree with each other. And even if they did agree, their authority is still just human.
We are instructed to test all things and hold onto what is good (1 Thessalonians 5:21). This means that all doctrines should be examined through the lens of the sacred Scriptures. There are no exceptions, not even for Augustine, Jerome, Origen, or an antichristian Pope. Augustine, however, supports my perspective on this issue.
I have my reasons for referring to the issue you describe as "sin" rather than using the milder terms "defect" and "imperfection." I would like to ask those who agree with Latomus if they are not creating an unrealistic ideal, similar to the Stoics' concept of a wise man or Quintilian's idea of a perfect orator. In other words, are they not describing a fictional character that has never existed and never will? I challenge them to find someone who would claim their own work is without sin.
Your way of speaking leads to dangerous misunderstandings about the nature of sin. You give credit to human abilities when it should be attributed to divine grace alone. This approach makes people overconfident in their vices and undervalues the significance of Christ's mystery. As a result, gratitude and love for God are diminished.
There is an immense outpouring of grace involved in converting sinners, but you seem to overlook this. By considering human nature innocent and misinterpreting or distorting the Scriptures, their meaning is almost lost in the Christian world.
I don't feel the need to apologize for sharing these enlightening excerpts. "The subject of this debate is of utmost importance (if anything can be called important), as it involves God's glory, the necessity of Jesus Christ's grace, the practice of genuine humility, and the comfort of troubled consciences."
Luther ends his book by noting that he has been accused of treating Thomas Aquinas, Alexander, and others unfairly and ungratefully. He defends himself by saying that those authors had caused much harm to his own mind, and he advises young theology students to avoid scholastic theology and philosophy, as it could ruin their souls. He expresses significant doubts about whether Thomas Aquinas was even a good man, but he has a better opinion of Bonaventura. Luther claims that Aquinas held many heretical opinions and is the main reason for the prevalence of Aristotle's doctrines, which destroy sound doctrine. He asks, "What is it to me, if the Bishop of Rome has canonized him in his bulls?"
As valuable as this work is, it cannot compare to the truly Herculean and apostolic labor that was interrupted by performing it. Luther says, "You can hardly believe how reluctantly I allowed my attention to be diverted from the quiet study of the Scriptures in this Patmos, by reading the sophistical quibbles of Latomus." And again: "I really begrudge the time spent in reading and answering this worthless publication, particularly as I was EMPLOYED IN TRANSLATING the Epistles and Gospels into our own language."
We, who can easily read a chapter in the Bible whenever we want, tend to forget the effort it took to provide us with that Bible in our native language and the risks we faced to have the freedom to read it with our own eyes and handle it with our own hands. Especially in times when, through God's clear guidance, versions of the Scriptures are circulating throughout the entire known world in more than 140 languages and dialects, and it is rare to find someone who even has the desire, let alone the ability, to limit the circulation of the sacred volume. We are ill-prepared by our own feelings and experiences to appreciate the gift of a Bible that is now, for the first time, available in the vernacular tongue.
But Luther had to fight not only for the right to read but also to work so that they might have something to exercise that right on. Luther easily foresaw the significant consequences that would come from a fair translation of the Bible in the German language. Nothing would shake the foundations of ecclesiastical despotism more effectively; nothing was more likely to spread the knowledge of pure Christian doctrine. As a result, he was eager to speed up the work, while his opponents dreaded its execution more than any heresy that the church's greatest enemy could commit.
So, he had started and was preparing himself for the completion of his work by studying the original languages more closely when he was interrupted by Latomus. This was a project that required the silence and seclusion of his Patmos for its initiation and beginning, but it couldn't be satisfactorily completed without more resources than he had there.
"I find," he says, "that I have undertaken a work that is beyond my strength. I won't touch the Old Testament until I can have the assistance of yourself and my other friends at Wittemberg. If it were possible for me to be with you and remain hidden in a cozy room, I would come. And there, with your help, I would translate the whole thing from the beginning so that eventually there might be a version of the Bible suitable for Christians to read. This would be a great work of immense importance to the public and worthy of all our efforts." This challenging task was finally accomplished: the New Testament, as I have already mentioned, was published in 1522; the Old Testament was completed in parts until it was finished in 1530.
"In this work, he was greatly assisted by the labor and advice of several of his friends, particularly Jonas and Melancthon. The entire performance itself was a testament to the incredible work ethic that characterized this reformer."
The impact of this work was quickly felt in Germany. A huge number of people could now read the precious word of God in their own language, and they could see for themselves the solid foundations of the Lutheran doctrine. The Lord provided them with a powerful tool, like Ithuriel's spear, to be used by the masses. It's no surprise that the Catholics were upset and burned the books. After all, what has kept the Papacy in power if not ignorance of THE BOOK? And what will ultimately destroy it, according to Luther's insightful and enlightened prediction, is the knowledge of the Book.
"The kingdom of Antichrist, as predicted by the Prophet Daniel, must be broken WITHOUT HAND; meaning that the Scriptures will eventually be understood by everyone, and people will speak out and preach against the tyranny of the Papacy using the word of God. This will lead to the MAN OF SIN being abandoned by his followers and dying on his own. This is the true Christian way of destroying him. To achieve this goal, we must put in all our efforts, face every danger, and endure every loss and inconvenience."
It's surprising that in our time, there are individuals - or should I say, many people - who belong to the Catholic Church and are passionate about spreading the Scriptures in their country's spoken language. One of these individuals, standing tall above the rest, has been responsible for distributing over 300,000 copies of his own German translation, as well as many thousands of Luther's version.
To judge the quality of Luther's translation, one would need not only a deep understanding of Hebrew and Greek but also of the German language. It was certainly elegant and clear, and it was far better than any other scriptural publication that had been known to the people before.
It's likely that this work had its flaws, but it's safe to assume that it was mostly accurate and reliable, given the strong understanding, biblical knowledge, and diverse expertise of the author and his collaborators. It was a highly appreciated gift for those who were finding their way out of ignorance. When other reformers in different countries followed this example, the accessibility of real scriptural knowledge increased significantly, especially considering the impact of the printing press.
Emser, a plagiarist who supported the Pope, first tried to discredit Luther and then attempted to outdo and replace him. However, his "correct" translation was essentially just a copy of Luther's work (since he was known to be ignorant of the German language), with a few changes that favored Roman Catholic beliefs. As a result, people read Luther's work under Emser's name, and Luther was grateful, saying with sincerity, "Regardless of whether it's done with false motives or true ones, Christ is being preached, and I'm happy about that, and I will continue to be happy." (Philippians 1:18)
Luther didn't enjoy being confined to solitude for ten months, often showing signs of impatience. He thrived on taking action and found it difficult to remain idle. He expressed his feelings by saying, "For the glory of God's word and to strengthen both myself and others, I'd rather be burned alive than live here half-dead and useless. If I die, it's God's will, and the Gospel won't suffer at all. I hope you'll take my place, just like Elisha succeeded Elijah!"
I wish he hadn't written that last sentence to his friend Melancthon. Nevertheless, after ten months, the situation in his beloved Wittenberg, combined with his own preferences, made it clear that it was in the best interest of the church - and therefore, God's will - for Luther to risk his life and safety by leaving his hiding place and returning to his public role in the then-budding center of Protestantism.
Melancthon lacked energy and strength, while the elector lacked courage and determination. Carolstadt had become chaotic, and the people were like lost sheep without a shepherd. The enemy was taunting them, saying, "There, There." Realizing that brief, secret visits were no longer enough, Luther decided to take a risk. He knew the elector well enough to act first and apologize later. So, he left Wartburg and wrote his noble letter to the elector while on his way from Borna.
In that letter, he honestly explained his motives and expectations, freeing Frederic from any responsibility for his safety and expressing his complete trust in divine protection. With no real or even pretended safeguard other than God, he continued his journey.
Luther wrote, "I want you to know that as I return to Wittenberg, I believe I am under a far more powerful protection than anything the elector of Saxony can provide. To be clear, I don't want your protection. I never thought to ask for your defense. In fact, I believe that you should receive support and protection from Luther's prayers and the good cause he is fighting for. This is a cause that doesn't need the help of the sword. God will take care of it without human assistance. I declare that if I knew you intended to defend me by force, I wouldn't return to Wittenberg. This is a situation where only God should guide, and people should wait patiently for the outcome. The person who trusts God the most will bravely defend both themselves and others. Your faith in God is weak, so I cannot rely on you for my defense and hope of deliverance."
If I had to choose the most remarkable moment of Luther's life, I would say it was at Borna.
All the generosity, bravery, and determination that he showed later were simply the actions of the spirit he had clearly received at that time. This was the result and effect of the Lord's most complete and vivid revelation of Himself to Luther's soul. This allowed Luther to fully trust in God. He made this decision at Wartburg and announced it at Borna. His return to Wittenberg brought healing, confidence, and peace to his scattered, anxious, and doubtful followers.
Luther's valuable life was preserved for the church for 24 years after his return to Wittenberg. During these years, he first had to build, which he found more challenging than tearing down. He then had to protect, expand, maintain, and perpetuate his new establishment. He had to guard against the greed of the secular authorities without making church officials wealthy. He needed to find knowledgeable teachers for the people without supporting lazy individuals. He had to turn the uneducated into educators and eliminate extravagance without compromising decency. Often, he was unsure of what to advise, and frequently he had to settle for what he considered second-best. The printing press was his primary tool for both fighting and educating. His publications covered a wide range of topics, and he had deep thoughts and knowledge, as well as substance and importance, for all of them.
We must remember that throughout this time, he was like a ship sailing through a storm. He was not only excommunicated (he had excommunicated others in return), but also an outlaw under the ban of the empire. Anyone who dared could have captured and handed him over to the authorities. Is this not the man whom the Lord holds with His right hand, protects as the apple of His eye, and provides for even in the midst of his enemies? (Psalms 17:8; 23:5)
Luther's professed enemies were not his worst. The elector's cautiousness, the fear of his allies, the people's madness, the desire for change, envy, debate, and his own stubbornness were more harmful to him than his opponents like Eckius and Aleander, the Conclave, and the Emperor. Luther's character can be understood from this brief look at his history. He was generous, broad-minded, self-disciplined, studious, selfless, fearless, and wise. "He feared God; he feared none else."
Early in life, Luther experienced a deep understanding of his own sins, accountability, helplessness, and powerlessness. Melanchthon tells a story about Luther being so overwhelmed by thoughts of divine vengeance that he was almost frightened to death. On one occasion, Luther was so terrified during a theological debate that he went to a neighbor's room, lay on the bed, and prayed aloud, repeating the words: "He has enclosed all under sin, that he might have mercy on all." (Galatians 3:22)
This sensitive conscience made Luther receptive to the divine word. We have seen how God placed it in his path. For a long time, it only brought terror to him. "THEREIN is the righteousness of God revealed," (Romans 1:17) led him to blasphemy. Eventually, God had mercy on him, opened his eyes, and showed him that the righteousness of God mentioned there is not His own essential righteousness, which makes Him hate and punish sin, but a substance He has provided to cover sinners.
This understanding, which had been a stumbling block for Luther, became his entrance into paradise. Over time, God revealed the mystery of this righteousness more clearly to him. He showed Luther that Jesus Christ was this righteousness in person, and that to enter into Him and put Him on by faith was to be righteous before God. Christ's merit was complete for justification; nothing needed to be added or could be added to it by a sinner, and it was received by faith alone.
So far, the Lord had given him clarity of vision, though not complete, and He provided it quickly. After this, He allowed Luther to make mistakes, even until the end of his days. Now, since "it pleased God, who had set him apart from his mother's womb and called him by his grace, to reveal his Son in him, he immediately did not consult with human beings;" Gal 1.15-16 "he couldn't help but speak about the things he had heard and seen;" 1 John 1.3 "he was willing not only to be arrested but also to die in Jerusalem for the name of the Lord Jesus" Acts 21:13-33.
God granted three unique gifts to this chosen witness, which define his testimony: an extensive understanding of the Scripture, an exceptional ability for complex and intricate reasoning, and a remarkable skill in communicating with everyday people.
To demonstrate the first point, you can refer to all of his works, including his translation of the Bible, if that's not convincing enough. For the second point, consider his debates with Eckius, Latomus, and Erasmus, particularly the treatise that follows. And for the last point, look at his numerous writings and sermons, especially his address to the common people during the outbreak of the peasant war. His commentary on the Galatians provides examples of all three points.
This was the man whom the Lord chose and used as the most prominent, active, and effective partner in achieving the Reformation! However, it's strange that people only focus on one aspect of God and only the surface of that aspect when His entire being is revealed. The Reformation was God's act - an act only surpassed by those of Calvary and the Red Sea in displaying His power and might. He accomplished it by working through both Luther and his enemies, such as Charles, the Elector, Leo, Cajetan, Campeggio, Prierias, Hogostratus, and the whole group of aggressive opponents who wanted to silence and burn those who criticized Babylon, as well as through Jonas, Pomeranus, and Melancthon.
In fact, if we want to truly understand this event as a display of God's power, we must examine not only the good and evil workers, both visible and invisible, but also the steps He took to prepare for His mission and the various elements He used to carry it out. We need to consider the capture of Constantinople by the infidels, which led to the spread of Eastern scholars throughout Christendom; the barbarians developing an interest in literature, and the invention of the printing press making it easier to acquire knowledge; and the various agents and conflicting interests that fueled their activity.
We must see rival princes and previously submissive vassals now starting to question their rulers. We must see a dominating Charles, a chivalrous Francis, a lustful and greedy Henry, a bombarding Solyman, a reckless Leo, a calculating Adrian, a hesitant Clement — German freedom, Italian compliance, Castilian independence, Flemish lightheartedness, French loyalty, Genoa's fleet, and Switzerland's mercenaries, Luther's determination, Frederic's aloofness, Melancthon's disheartenment, and Carolstadt's impulsiveness — all created, stirred, and mixed by God as a sort of moral chaos. Out of this, in His perfect timing, He commands knowledge, liberty, and peace to emerge for His captives in Babylon. Luther describes himself, as we have seen, as a rough debater: debate was his element; from his first appearance in public, his life was spent in it. I hope my reader has learned not to despise or even fear debate. It has been, from the beginning, the Lord's chosen weapon for revealing His truth, just as evil has been its own great developer. What are Paul's and John's Epistles if not argumentative writings? What was the Lord's entire life and ministry if not a debate with the Jews? Luther knew its uses well, and he had experienced its peaceful results: it provokes inquiry, silences the critics, and strengthens the believers. However, there were three debates out of his many that he would have preferred to avoid, as they were against former friends. In the first, he was mostly right, but not without question; in the second, he was entirely wrong, without question; in the third, he was completely right, without question — without question, I mean, not regarding any public trial that has been held and judgment given, but before the court of sound reason.
Andreas Bodenstenius Carolstadt, who was unheard, unconvicted, and banished by Martin Luther. What! Had Luther become a persecutor? Did he, who should have been a martyr himself, make martyrs of others? Not quite, but he was accused of doing so, and there were appearances against him! Honest Carolstadt - there is some debate about whether he truly deserves this name - was a turbulent man. Although he was a learned man and still a professor at Wittemberg, he let it be known that he despised learning. He had no real enthusiasm for Luther's "broken WITHOUT HANDS." Carolstadt placed himself at the head of a few inexperienced and hot-headed recruits and ranted about the papal abuses that still remained among them. He proceeded to remove these abuses WITH HANDS, by breaking images and throwing down altars. This disorderly spirit was what prompted Luther's return.
Luther said that the account of what had happened at Wittemberg had almost driven him to despair. Everything he had suffered so far was comparatively just a joke and child's play. He could not lament enough or express his disapproval of those tumultuous proceedings. The Gospel was in great danger of being disgraced because of this. Carolstadt fled before him. He became a divisive preacher at Orlamund, was banished by the elector, and eventually restored through Luther's intercession. However, their reconciliation lacked warmth. In the end, Carolstadt retired to Switzerland, where he served as a pastor in a community that better aligned with his own beliefs. He died in 1531.
Carolstadt was one of Luther's earliest defenders, but he later became his rival and enemy. They engaged in a sort of fratricidal war for several years after Luther's return from Wartburg, through conferences, sermons, and treatises. Among these treatises, Luther's "Address to the Celestial Prophets and Carolstadt" is the most significant. It is undeniable that Luther was not the author of Carolstadt's banishment, even though he fully approved of it. In fact, upon Carolstadt's submission, Luther made great efforts to have him restored. He could not succeed with Frederic, but he did succeed with John.
Still, I have found him quite unpleasant, random, and unfairly sarcastic in his opposition to Carolstadt. I also thought he was unjustifiably dismissive and exclusive in his interactions with the Munzerites, and maybe too confident in denying any influence of his teachings on the peasant war. That's why I said "not without question." But upon closer examination, I see clear evidence that Carolstadt was indeed what Luther accused him of being - unpredictable, extreme, dishonest, and inconsistent in his beliefs. He was also a preacher and practitioner of rebellion, and he had joined forces with Munzer and his followers, earning a place among the so-called Celestial Prophets. I find clear evidence that Stubner, Stork, Cellery, Munzer, and the others were a group of deceitful hypocrites, full of anger and false claims of divine favor, which they never explained or defended.
Luther's method for identifying false prophecies and false claims is also worth noting, as it is effective and practical. However, it might be based too much on his own personal experiences (I'm referring to his test of conversion). Furthermore, I find Luther's teachings so clear in emphasizing the importance of civil obedience that it was impossible for the peasants, or those who used them as a cover, to claim that Luther had encouraged their rebellion. It was also crucial for accurate doctrine that he disavow and express his disgust for their mistakes. So, aside from the part of the debate concerning his views on the sacrament, Luther was in the right. And on that topic, even though Carolstadt reached the correct conclusion, his arguments were so weak, inconsistent, and dishonest that he undermined his own success.
In the second of these controversies, which was initially started by Carolstadt but eventually taken up by more capable individuals, Luther was unfortunately mistaken. He was wrong in both his beliefs and the way he defended them. This serves as a poignant reminder of the limitations of human understanding, as we can only see as far as God allows us to. It is not always beneficial or in line with God's glory for us to fully comprehend everything as it truly is. Instead, we should be mindful of our origins and the limitations of our knowledge, as stated in Isaiah 51:1.
Is there any exception to this observation among human teachers and writers? Can we name even one whose work does not bear this mark, reminding us that we are reading a human's creation and not God's?
Luther believed that the actual substance of the Lord's body and blood was present in the bread and wine of the Eucharist, alongside the original substance of the bread and wine. This belief contains all the absurdity of the Catholic doctrine of transubstantiation, as well as an additional inconsistency: that the same substance can simultaneously be of two different types.
Now, even though the word of God asks us to accept many things as true that go beyond our senses and logical reasoning, it never asks us to believe in something that contradicts them. Can you find a specific passage, chapter, or verse in the Bible that asks us to believe in an obvious contradiction? This point applies not only to the more complex aspects of faith, like the coexistence of three equal persons in one divine essence, Jesus Christ being both God and man, and the presence of divine and demonic forces within the human soul, but also to the simpler truths about God's moral attributes, which have been distorted and confused by neglecting this principle.
For example, Martin Luther struggled to reconcile his understanding of God's moral attributes with his representation of truth and went so far as to claim that we don't know what these attributes are in God. However, if qualities like justice, faithfulness, purity, grace, mercy, and truth aren't fundamentally the same in God as they are in his moral creatures, then we can't know, believe, or feel anything accurate about him. How these attributes coexist with each other and with God's actions is a separate issue, but it's a clumsy, false, and harmful approach to solving difficulties by denying basic principles. If our very understanding of moral qualities is challenged and taken away, then we cease to be moral beings.
The belief in consubstantiation, then, contradicts both our senses and reason. Four of our senses argue against it, while only one can claim to support it. If the disciples heard Jesus affirm it and if we hear it from their writings, then our sight, touch, taste, and smell all tell us that it's just bread and nothing more that we're biting into.
A body can only be in one place at the same time. Therefore, the Lord's body, which is at the right hand of God, cannot be in any place where the sacrament is administered, let alone in multiple places at the same time. This is just like how the bread Jesus held in his hand when he instituted the sacrament couldn't be in the same place as his hand. Luther talked a lot about the ubiquity of the Lord's body, but what does that really mean? Aren't we explicitly taught that the Lord's body is in one place for a while?
"So then, after the Lord had spoken to them, he was received up into heaven, and sat on the right hand of God;" Mark 16:19
"Who has gone into heaven, and is on the right hand of God." 1 Peter 3:22
"Who is even at the right hand of God." Romans 8:34
"Sit on my right hand, until I make your enemies your footstool." Matthew 22:44
"Whom the heavens must receive until the times of restitution of all things." Acts 3:21
Moreover, what ends all debate is that, in reality, Jesus now has no such body and blood to give.
"There is a natural body, and there is a spiritual body." 1 Corinthians 15:44
"Flesh and blood cannot inherit the kingdom of God." 1 Corinthians 15:50
Jesus did indeed turn his spiritual body into a natural one by miracle for a few moments at various times after his resurrection, so that he could give credibility to his witnesses, "even to those who ate and drank with him after he rose from the dead." Acts 10:41. But ever since then, his ongoing, ordinary existence has been in a body that no teeth could chew and no lips could enclose.
Luther's main focus was on the words, "This is my body." He took his sound and just principle of interpreting Scripture literally, not metaphorically, where possible, to a false and even ridiculous extreme in this case. This was in opposition to his own admitted exception: "unless an evident context and some absurdity which offends against one of the articles of our faith in the plain meaning, constrain us to such interpretation." (See Part IV, Section III, p. 239 of the following work.)
Is this the only example of such a form of speech? Circumcision, which is usually referred to as the symbol of the Abrahamic covenant, is called the covenant in some places; the two stone tablets are called the covenant; the lamb is called the Passover; the rock struck in Horeb is called Christ (1 Cor 10:4). Moreover, if the bread is transformed into his body, then the cup should also be transformed into a testament; "this cup is the new testament" (Luke 22:20). And when we have eaten this flesh and drunk this blood (if such an act were possible)
What has carnal chewing and swallowing done for us? It's as if flesh could nourish the spirit, or as if Christ's flesh were spirit (though Luther believed that it was so). Luther's insistence on this belief weakened his overall credibility as a logical thinker and undermined the authority of his arguments. In this debate, he appeared like an orator who could passionately argue about anything, even something as trivial as a broomstick. He used his great mental powers to make forceful appeals and crafty illustrations to support this unfounded belief.
It's not that Luther knew or thought he was defending a falsehood. His only excuse is that he was honest – indeed, honest until his dying hour. Although he may have regretted the intensity of his spirit and language against his opponents, he never conceded on his doctrine. He declared it during a severe illness in 1526 and continued to preach and write about it until the end.
Luther regretted the spirit he had shown in this debate, and rightfully so. He defended his belief aggressively, calling names and demonizing his adversaries. At the very least, his opponents were just as pure, learned, and hardworking as he was, if not as commanding in their presence, as exalted in their sufferings, or as successful in their endeavors. Tearing apart the unity that should have existed between Switzerland and Germany was more his doing than theirs.
This bitter controversy, regrettable for many reasons but not without its direct and indirect benefits, began in 1524 and continued up to and beyond Luther's death. The churches that bear his name still hold on to his dogma.
In the last of these debates, I declare that he is completely right. By right, I mean in terms of his conclusion and his opponent - although he presents some arguments that could have been left out, and he doesn't always demonstrate a complete understanding and proper use of his tools.
Erasmus, who was about sixteen years older than Luther, had provided some assistance to the reformers. This was mainly by making it easier to learn ancient languages through his successful studies in literature, but also by using his unique talent for ridicule to mock some of the more blatant wrongs of the Catholic Church. It's not that he was genuinely concerned about these issues; he was a man born to make people laugh - he loved a good joke - and monks and friars provided him with material he couldn't resist. So, like Lucian and Porphyry, without really intending to, he paved the way for a better faith by mocking much of the old one. He was offended by the idea of being considered a skeptic, and many people today think it's unfair to label him as such. But isn't anyone who takes their soul lightly a skeptic? And aren't the majority of professing Christians just a group of such people who, if put to the test, would act out what Luther said sarcastically: "God has not given everybody the spirit of martyrdom."
Erasmus had somewhat aligned himself with the reformers by speaking highly of them, especially Luther, and agreeing with many of their beliefs. In 1520, when the papal bull was being prepared and eventually released, he had written and spoken in strong support of Luther:
- "God sent him to reform humanity."
- "Luther's ideas are true, but I wish he was more gentle in his approach."
- "Luther's cause is controversial because he attacks both the monks' livelihoods and the Pope's authority."
- "Luther has great natural talents; he's skilled at explaining complex literary points and reigniting the true essence of evangelical doctrine, which has been nearly snuffed out by trivial academic debates. Many highly respected, knowledgeable, and religious people appreciate Luther's books. The more someone is known for their moral integrity and gospel purity, the fewer issues they have with Luther's ideas. Even those who disagree with his teachings praise his character. It's a shame that such a gifted person is driven to desperation by the monks' furious protests."
When urged by the Pope's representatives to write against Luther, he replied, "Luther is too great for me to confront. I don't always understand him. But to be honest, he's such an exceptional man that I learn more from a single page of his books than from all of Thomas Aquinas' writings."
However, as the reformation movement progressed, Erasmus didn't move forward with it but instead retreated. His primary motivation was vanity and a love for praise from others, particularly from influential figures like princes, high-ranking church officials, and esteemed individuals. He wanted to be highly regarded, especially for his extreme moderation, as befitting a man of letters. He aspired to be an Atticus of his time. Wholeheartedly joining the reformers wasn't the way to achieve this goal. The movement's leaders looked down on them, and, even more frustratingly, they wouldn't make him a prominent figure within their ranks.
The quote from Horace goes, "Among all, the star of Julius shines, like the moon among the lesser fires." But he wasn't that moon; Luther was that moon. So, what could he do but sulk and clearly distance himself from them, letting the princes know they were mistaken if they thought he was one of them? In doing so, he could skillfully achieve two things at once: get back at them for disregarding him and make room for the sun and stars to shine on him. He admitted this in his response to Luther:
"Up until now, I haven't written a single word against you; otherwise, I could have gained a lot of praise from important people. But I saw that it would harm the Gospel. All I've tried to do is dispel the notion that you and I are in complete agreement and that all your teachings can be found in my books. Efforts have been made to plant this idea in the minds of the princes, and it's still difficult to convince them that it's not true."
Luther would have been happy if things had stopped there. Erasmus had done everything he was meant to do, but he shouldn't become their enemy. He was a skilled sharpshooter - some of his shots would hit, irritate, and discourage. However, there were lower-ranking members in Luther's group as well as in the Pope's, and they didn't pay enough attention to maintain Luther's position. They would go beyond it. They mocked the satirist, hinted quite openly about his true nature, and belittled him to his superiors. Luther tried to lessen the impact of their attacks, but it was too late: the enemy had already gotten to him.
Henry VII of England had begged, Pope Adrian VI had pleaded in two letters, Duke George had demanded, Tunstall had implored, and Pope Clement VII had convinced - and all the while, the pain from the wasps' stings still lingered.
Luther makes one last effort to calm Erasmus with great patience (but without compromising honesty), including some subtle hints about the true state of their cause. However, as Erasmus himself admitted, it was done politely.
'I won't criticize you for acting like a stranger to us in order to stay on good terms with the Papists, who are my enemies, or for being too harsh in your judgments of us.' …'The entire world must gratefully acknowledge your incredible talents and contributions to the field of literature, which have allowed us to read the sacred Scriptures in their original languages. I never wanted you to abandon or neglect your own unique abilities and join our side.' …
'I wish that Hutten's COMPLAINT had never been published.' …
'I share your concern about the anger and hatred directed towards you by so many distinguished individuals. I can only imagine how much distress this must cause you, as even someone with your level of virtue, which is purely human, cannot be completely unaffected by such challenges.'...
'What can I do now? Tensions have escalated on both sides, and if I could play the role of a mediator, I would ask that they stop attacking you so fiercely and let your old age find peace in the Lord. In my opinion, they would act this way if they took into account your limitations or the enormity of the disputed issue, which has long been beyond your abilities. They should be even more considerate of you, given that our cause has progressed to the point where we don't even fear an all-out assault from Erasmus – we are far from being intimidated by any of his criticisms.'
'Our prayer is that the Lord may grant you a spirit worthy of your immense reputation; but if that doesn't happen, I beg you, if you can't support us, at least remain an observer of our intense struggle and don't side with our opponents. And please, don't write any more essays against us – if you agree to this, I promise not to publish anything against you.'
All efforts are in vain: to protect his wealth, to express his gratitude for what he has already received, and (unless he is treated cruelly) to earn more, his promises must now be fulfilled, and the Diatribe is released. He talks a lot about the significant risk of publishing it:
"No printer in Basel would dare to take on his or any work that contained a word against Luther."
He informs Henry VI (to whom he had sent part of the manuscript for approval) that "The die is cast; my little book on Free Will is published: a daring act, believe me, if the current state of Germany is taken into account. I expect to be attacked; but I will find comfort in the example of your majesty, who has not been spared from their insults."
His conscience is revealed when he says to Wolsey, "I have not chosen to dedicate this work to anyone, lest my critics should immediately claim that in this matter I had been paid to please the powerful. Otherwise, I would have dedicated it to you or the Pope."
His main motivation is evident when he talks about the significant impact he anticipated from his publication. He writes to Tunstall:
"The little book is out; and although written with the utmost restraint, it will, if I am not mistaken, cause tremendous upheaval. Pamphlets are already being thrown at me."
Such was the origin of the Diatribe; the creation of an irritable, discontented, and vain man who had meddled with both sides, satisfied neither, but was now determined which side he would support; yet he still aimed to maintain his favorite image of moderation. It is the work of a great scholar, but not a profound thinker; of "one who had skimmed the surface of his question, but had not delved into its core;" of someone who knew what is in the Bible but did not truly understand the Bible.
The text is quite imposing but not solid. It criticizes and praises, but doesn't disprove what it condemns or establish or define what it approves. Yet, this is a work that many people, even those who claim to be serious about their faith, will defend and maintain in opposition to Luther's views. In fact, many who consider themselves Calvinists or Calvinistic (I'm not a fan of labels – I prefer to focus on character and principles rather than sects or parties) are actually, in their hearts and minds, supporters of free will. They try to oppose the testimony of Jesus Christ, the Son of God, with their own flawed human reasoning, creating their own version of God by mixing bits of Scripture with their own imagination. Instead, they should be studying and learning from the true and living God revealed in the Bible. I agree with Luther's assessment that this work is tedious, confusing, deceptive, false, and harmful.
Luther was initially hesitant to respond to it, but eventually decided to do so for reasons he explains in the introduction of his letter. If he was going to address such a work by such a person on such a topic, he had to do it with all his might, just as he has done. So, if you want to see Luther, you can see him here.
Erasmus responded with two separate treatises under the name of Hyperaspistes, meaning 'defender with a shield.' The first, as he tells us, was written in just ten days so it could be ready for the upcoming Frankfurt fair (a major event for both literature and commerce at the time). It was a passionate and rushed piece, in which he didn't give himself time to think. The second was a much longer and more carefully crafted work, in which he was completely unrestrained and serious. If he could have, he would have shown no mercy to Luther and crushed him completely. But, as they say, "the gods had other plans."
This second book is quite long and tedious, but the tediousness that every reader will complain about isn't so much due to its length, but rather the confusion that runs throughout it. The writer manages to stay engaged despite the excessive wordiness, thanks to their ongoing hostility and resentment. However, the reader becomes tired and disoriented from being led down unclear paths one after another, never reaching a clear and satisfying conclusion. Paying close attention to a long series of confusing and jumbled ideas can wear out the intellect, just as trying to focus on hard-to-see objects can exhaust even the best eyesight.
Luther didn't respond to this double-edged criticism. He knew that Erasmus was fighting for victory, not truth, and he had better things to do than write books just to repeat unanswered arguments. There was nothing in the Hyperaspistes that hadn't already been addressed in his Bondage of the Will, just as there was nothing in the Diatribe that hadn't been brought up and refuted many times before. Therefore, the Letter or Treatise presented to the public should be seen as containing Luther's complete, final, and, as he believed, unrefuted and indisputable judgment on the state of the human will.
According to Erasmus, the human will is in a state of liberty; according to Luther, it's in a state of bondage. This is the subject and position that Erasmus brought up for debate, and Luther accepted the challenge.
The esteemed Locke, whose name I always mention with reverence and gratitude, has shown that the question is improperly stated. He says that the will is essentially just a power of the human mind or the person; freedom is also a power of the person.
So, asking if the will is free is like asking if one part of a person controls another part of them. It's similar to asking if their sleep is fast or if their virtue is square - freedom doesn't really apply to the will, just like speed doesn't apply to sleep or squareness to virtue. The right question to ask is not whether a person's will is free, but whether the person themselves is free. Locke says that a person is free only as far as they can choose to do something or not do it, based on their own thoughts and desires. Freedom is the ability to act or not act as we wish.
However, if people still want to ask if the will is free, the question should be changed to: is a person free to exercise their will? This can refer to either the act of using their will or the outcome of that act, which is the thing they choose. Regarding the act, Locke says that in most cases, people don't have freedom because once they think about doing something, they have to make a decision. As for the outcome, Locke says that people can't help but have freedom: they want what they want and are happy with what makes them happy. To question this is to assume that one will controls another will, and so on, forever. It's important to note that Luther also agrees with Locke on this point, saying that a forced will is a contradiction and should be called "non-will" instead of "will."
The scholars that Luther and Erasmus learned from made a distinction between the will's overall ability and the will when it's being used or put into action.
Their question was not, "is there free will?" but rather, "is there free choice?" In reality, this distinction doesn't make much of a difference. What were they actually debating? It's not about an inactive ability, but rather about how that ability functions when it's used. How else can we understand its nature and properties? Luther's insight is as sharp as Locke's in this matter.
Erasmus, when defining free will, describes it as the power of the human will that allows a person to choose things related to their salvation or to turn away from them. In essence, he's suggesting that there's something in between the will and its actions. However, Luther, when examining this definition, argues that there can't be any such middle ground. He uses language so similar to Locke's that it prompted the following comment from his historian:
"Luther, with as much sharpness as if he had studied Mr. Locke's famous chapter on power, replies, etc."
"But what is meant by this power 'applying itself and turning away itself,' unless it's the very act of willing and refusing, choosing and despising, approving and rejecting; in short, unless it's the will performing its very function? I don't see it. So, we must assume this power to be 'a something interposed between the will itself and its actions:' a power by which the will itself carries out the act of willing and refusing, and by which that very act of willing and refusing is brought forth. It's not possible to imagine or conceive anything else here." (See Part iii. Sect. ii. p. 132.)
However, this false distinction actually helps to resolve the whole issue. The incorrect question they've been asking is, "Is the will free?" The right question to ask would be, "Is the understanding free?" In other words, does a person's will have all the information it needs when making a decision on any given matter? A misguided understanding will lead to a wrong conclusion, even though that conclusion is made without any coercion.
Now, I believe this is the true situation: the NATURAL person, with their understanding clouded, is disconnected from God's life due to their ignorance and the blindness of their heart. Additionally, they are controlled by the devil, who works to maintain and increase their blindness. As a result, they make decisions based on incomplete and false information. The same observation applies to the SPIRITUAL person, to the extent that they are not fully spiritual and allow their flesh (through which the devil influences them) to impact their decision-making, all in the name of the greater principle of "God's glory in their real good."
It's actually the judgment, perception, or understanding, not the will, that is truly in bondage. This is because the faculty that presents objects to the decision-making faculty does so inaccurately, either by hiding what should be shown or by presenting a false or distorted appearance of what is and should be there. This idea helps explain the paradox that the will is both free and not free. In everyday language, the will is free because it cannot be forced; however, it is not free because it operates in the dark. Therefore, it might be more appropriate to call it "blind-will" rather than "bond-will," which is Luther's term.
This idea can also explain other mysteries and paradoxes, such as Paul's struggle in Romans 7, Pharaoh's hardening, our own daily experiences, and even the entire system of God's governance over a world of moral beings. Only the considerations that God presents to us can truly form the basis of our judgments and decisions regarding our actions. In other words, our free will is subject to His influence, and through our perceptions, His will becomes ours. However, I have used the language of the participants in this discussion, which is also the language of everyday life.
I talk about the will as being free or in bondage, and I use the term "Freewill" to describe a supposed power in humans, separating it into a distinct substance and often personifying it.
Let's agree then, that the question isn't worded correctly: the proper inquiry isn't whether a person's will is free, but whether the person is free; or rather, as we just saw, whether their perception is clear and complete. Still, the core of the debate remains unchanged, and its importance is still significant. Essentially, we're trying to determine the moral state of humans; and the considerations, even the expressions used in many parts of the discussion, show that we're not just debating an abstract question about the will, but investigating our human nature. What could be more important than this subject? What can be understood if this remains unknown? What kind of Christ would an ignorant believer in Freewill have? (See Part 1. Sect. 5, 6, 7, 8). The truth is, ignorance of the real state of humans is at the root of all religious ignorance. And it's clear that the Lord's dealings with his people involve bringing them to know, use, and enjoy Him through deep, detailed, self-emptying, and self-humbling self-knowledge. How can this happen if we don't recognize the depths of powerlessness and wrongdoing, as well as the blindness and hostility we've willingly fallen into?
This treatise's unique approach is to explore the current state of the human soul using only scripture and scriptural reasoning, without any abstract philosophical investigation beyond what's absolutely necessary for writing and reading about it intelligibly. Luther was not ignorant of metaphysics.
He had been extensively trained in Aristotle and the schoolmen. If he didn't use such weapons, it was because he looked down on them; I should rather say, it was because, according to his own testimony as mentioned earlier, he found them harmful. Erasmus sometimes forces him to engage in this kind of debate, where he proves that he could have skillfully used such weapons if he had considered them to be appropriate for the sanctuary. Someone who was a thoughtful observer and a skilled judge said of him, 'Even in the metaphysical complexities, which couldn't be entirely avoided in this deep inquiry, he greatly outperformed Erasmus.' But those who have truly submitted themselves to the authority of Scripture and have a deep understanding of the Father's testimony about Jesus will feel that, as this subject is the most important one that can engage the human soul, this method of investigating it can alone be expected to yield a satisfying conclusion. They will be glad, therefore, that someone like Erasmus—a man well acquainted with the text of Scripture (as Luther testifies of him, "who thoroughly examined all our works"—Part 3. Sect. 6. note e)—should have issued his challenge in the form of an appeal to the canonical Scriptures only; and that someone like Luther, who had delved quite deep into the mines of that volume, should have accepted and brought it to a resolution.
The order of the argumentation is clearly outlined in the Table of Contents that follows and is also mentioned at the beginning of each Part and Section. So, I'll just briefly mention that after a short Introduction, Luther follows the order of Erasmus' work (which, despite being somewhat scattered, provides a guide for navigating its complexity). He first examines Erasmus' Preface, then his Proem, then his testimonies, then his supposed refutation, and finally establishes his own position with direct proof. He concludes the entire work with an emotional appeal, and each Part also ends with a heartfelt touch. Many people think that Luther lacked tenderness, but the once-cloistered, and later married and fatherly monk, could indeed be gentle, compassionate, and childlike.
The format of the treatise is in the form of a letter to Erasmus, which is why I've chosen to divide it into Parts rather than Chapters. Dividing a letter into chapters seems a bit strange, even though we're used to it in our organization of the Scriptures. However, it's important to remember that this division has no authority and has led to some misunderstandings. Locke even suggests that those who want to understand Paul should disregard it. My only advice regarding these Parts is that readers shouldn't be discouraged by some of the less engaging debates in the first Part. While I don't find them uninteresting, the work becomes more engaging as it progresses. I hope readers will find this to be true and remember that we must first find a way to approach the walls before we can storm them.
As for Luther's writing style, I can't really compliment it. The sentences are long, the ideas are numerous, and the words are often crude and arranged in a discordant manner. However, there is always meaning in what he says, even if that meaning isn't always immediately apparent or clear.
He can be quite eloquent at times, and other times, he's more straightforward. His language reflects who he is as a person. He's more like Hercules with a club than Achilles with a sword, and he's more of a Menelaus than an Ulysses. He's always strong, sometimes playful, and occasionally subtle. He never leaves any room for his opponents to escape, often dragging them through their own arguments.
The strengths of this treatise include a strong stand for truth based solely on God's testimony, without mixing in human opinions (see Part 2, Sections 1-12). This foundation is cleared of any objections (Part 2, Sections 13-14). A significant part of God's truth is firmly established (see Part 3, Part 4, Part 5), and much of it is also indirectly stated or implied, proven, or left to clear and obvious inference. As a result, one can confidently say, "Give me Luther, and I will give you THE TRUTH."
However, Luther hasn't provided us with a clear answer, neither in this treatise nor anywhere else. The flaws in his theological system are evident in this, his best work, as well as in his other writings. I use the term 'theological system' because truth is a vast, unified whole, not a collection of disconnected and disjointed propositions. This whole consists of many parts that, while distinct, are so closely intertwined and connected that it's nearly impossible to truly understand any one part without understanding each and every part, as well as the entire whole.
Those who claim there is no system in the Bible should explain what they mean by "aletheia" (the truth). They should also explain why this term should be used to describe the counsel or plan that God is carrying out through Christ, why it should be a name for Christ, and why it should be a name for God.
If God is the ultimate truth, the true one; if Christ is His image; if the plan or system of divine actions within Him is the image of that image; if the Gospel or teaching of God's kingdom is the message that declares that plan; then it's easy to understand why one term can be applied to all these different subjects. They are all, in various ways, the truth. It's not a valid argument to say, 'this respected person didn't see it there,' or, 'that respected person didn't see it there.' It may still be there, and if it's not, then God hasn't achieved His goal in revelation, which is not to reveal a statement, but to reveal Himself. Everyone should study the Bible in a way that helps them know God through it — which they can't do unless they understand what's written there, within themselves, and grasp it as a whole. At the same time, they should be cautious: they should form their understanding not by ignoring or suppressing any part, but by giving a fair, well-thought-out, and verified meaning to each and every part of the testimony.
The shortcomings of this treatise, then, are the shortcomings of Luther's theological system. He wasn't able to see that all of God's interactions with creatures can be traced back to one grand plan, created, ordained, and carried out to achieve one grand purpose; that this grand purpose is the manifestation of God; that this plan is, in all its aspects (not just in the part related to human redemption, but every bit of every part), based on, guided by, and completed in and through Christ — the eternally predestined and, in time, truly risen God-Man (see Part 2, Section 8, note R; Part 3, Section 32, note S). Even less was he able to discern the structure and components of that plan through which God is accomplishing this goal: that Adam — meaning not just the individual Adam, but everything created in him, including the entire human race — is the main and central subject of God's self-revealing actions (see Part 3, Section 28, notes T, V, X; Section 37, note L, etc.).
Although he had some understanding of the mystery of Christ's identity (see Part 1, Section 3; also Section 16, note n) - that He was truly God and man, an equal member of the Trinity, made human through the Virgin's impregnation by the Holy Spirit - he didn't fully grasp the mystery that Christ's identity is formed by uniting a human person, the spiritualized man Jesus, with His divine identity. He has been acting in this combined identity, inspired not by His own divine nature, but by the Holy Spirit, from the very beginning. He first existed as the glorified God-man in a hidden, predestined way, until the time of His ascension. Since then, He has openly and continuously done the Father's will, not His own, through the inspiration of the Holy Spirit, not His own divine nature. In this way, He demonstrates the Trinity in every action He performs, which is, in fact, every action of God.
Furthermore, His human identity was incredibly unique, being both a son of Adam and a son of God at the same time. The Holy Spirit's impregnation gave Him a pure soul, while the daughter of Adam gave Him a sinful body. In this way, He became the sinless sinner. He, who knew no sin, was made sin for us (2 Corinthians 5:21) and was tempted in every way as we are, yet without sin (Hebrews 4:15). The same Holy Spirit that created Him sinless also kept Him without sin amidst all the temptations of the world, the flesh, and the devil, until He died to sin once (Romans 6:10) and His mortality was swallowed up by life (2 Corinthians 5:4).
In this deep mystery of Christ's identity, the key aspect is the 'union yet distinctness' - both in terms of his divine and human nature, and in terms of his oneness with us. Luther wasn't able to fully grasp this concept. (See previous references in Part 2, Section 8, note R; Part 3, Section 22, note 3; also Part 5, Section 22, note L; Section 28, note O.) Additionally, although Luther understood that humans are born guilty (which he attributes to being born from Adam, see Part 5, Section 20), and that our nature is entirely tainted from birth, making us both vile and powerless (a fact he assumes and discusses throughout his treatise, but see especially Part 4, Section 10), he didn't fully comprehend the mystery of the creation and fall of every individual in the human race, both male and female, in connection with Adam. (See Part 4, Section 10, note Z; Part 5, Section 20, note P.)
Furthermore, while Luther recognized that there are chosen and rejected people, with God predestining some for eternal life and others for eternal death, he didn't have a deep understanding of the covenant relationship with Christ, the appropriateness of His work, and consequently, the chosen people. This understanding would make God just in differentiating between them, even though the original and eternal separation goes beyond justice, reaching the level of sovereignty that is only limited by omnipotence.
So, not only was he left without any understanding of God's plan and purpose due to his lack of knowledge, but he also couldn't grasp the concept that reconciles the spiritual mind to the severity of God's decisions. How else would God's ultimate goal be achieved? He even had to give up on the idea of God's justice (which is truly and clearly flawless in this process) and instead resort to the harmful lie that we know nothing about God's justice and must remain ignorant until "THE DAY" reveals it. If justice, truth, and all other moral virtues are not essentially the same in God as they are in us and according to our spiritual understanding of Him, then everything is in chaos: we know nothing about God, and His revelation is pointless.
Furthermore, while he was able to grasp some aspects of the freedom and completeness of a sinner's justification through Christ, it was impossible for him to fully and accurately understand it due to the ignorance already mentioned. He didn't see the eternal justification that individuals received in Christ Jesus before the world began, with God promising to raise them up as accepted ones because of Christ's death. He also didn't clearly understand what made up their atonement in time or the state they were brought into as a result. They have been treated as if they had earned a state of gracious acceptance, in which they can produce, as God enables them, and actually do produce, fruit for God.
He didn't realize that even though their crown is a free crown, the Lord has arranged it in such a way that it's fair for God to distinguish between the righteous and the wicked. There's a mindset in the righteous that corresponds to how God reveals Himself in His new-creation kingdom, while the wicked only harbor hostility towards Him.
Although Luther had some understanding of the Holy Spirit's influence, his other areas of ignorance prevented him from truly grasping its nature. He didn't realize that the gift of the Holy Spirit is actually the gift of His personal presence and action, which is a unique, super-creation gift given through Christ. This gift is given according to God's will and timing, and is provided when it's best for His people and withheld when it's better for them not to have it.
This gift doesn't contribute to a sinner's justification in the strict sense, but it does enable those who are justified to demonstrate their righteousness. When I say it doesn't contribute, I mean that none of their actions performed through the Spirit contribute even the slightest bit to their acceptance. They are freely foreknown, predestined, called, justified (meaning they receive absolution from all sin without cost), and glorified, while it's the Holy Spirit who enables and even compels them to believe. This belief shows their obedience to God's command and marks them as those for whom Christ died according to the Father's will, which is also the will of the sacred and equal Trinity.
Luther's lack of understanding on this topic led him to claim that Adam had the Spirit, that the Spirit fulfilled the law for us, and that the Jewish church wasn't justified by the law because they didn't have the Spirit (see Part 4, Section 10, note Z; Part 5, Section 10, note Z) - as if the Spirit of grace was something we naturally or legally possessed! Additionally, while he recognized the Law as a condemning principle, he didn't grasp its true nature, form, and purpose - that it was an added, temporary, and symbolic element, whose glory was meant to fade away (see Part 3, Section 24, note I; Part 5, Sections 10-13). This lack of understanding led him to impose the Law back on God's people, instead of getting rid of it for good; he added burdens with one hand that he had barely removed with the other.
Luther also failed to grasp the distinct nature and purpose of Law-obedience and Gospel-obedience. He didn't realize that the obedience to the Law he essentially demanded, even if not explicitly, is not only an attempt to earn life instead of living out the life already given, but also a denial of who God is and how He reveals Himself to us while we claim to believe in and serve Him.
These are some of the main FLAWS in Luther's theology: 63, which he displays, as expected, in this detailed treatise. I believe I have fairly addressed both his strengths and weaknesses. My goal has been to provide the most accurate translation of his entire text, including every word and syllable. His strengths, which should be evident if I have succeeded in my efforts, are made even more noticeable by clarifying each point of his argument and labeling them clearly with numbers 1, 2, 3, etc.
I have tried to counteract his errors and shortcomings by presenting THE TRUTH in each case. My explanations are thorough, but I don't think they are overly long-winded. I have aimed for conciseness, and in some cases, I may have achieved the result of forced brevity, making the text unclear. However, I hope this is not often the case.
You might have already noticed that if I were to publish Luther's work, it must be accompanied by NOTES. I genuinely believe that without them, his work would be not only difficult to understand but also incomplete and misleading. So, I've stuck to two basic principles throughout: 'in the text, it's all about Luther and nothing else; but in the notes, I express my own thoughts, whether they agree with or contradict his.'
Now, you might wonder why I would even bother publishing Luther's work when I consider his ideas to be both incomplete and incorrect. Well, I have a few reasons. Despite its flaws and mistakes, I believe this is a truly valuable, impressive, and noteworthy piece of writing.
I'm publishing it because:
1. I think the subject matter is extremely important.
2. I don't know of any other valuable work on this crucial topic that uses the same kind of reasoning.
3. Luther's name carries weight with some people, and I hope it will attract readers.
4. When he's right, he's very right and very persuasive.
5. Even his mistakes and shortcomings can shed some light on the correct ideas and help pave the way for a better understanding of the truth.
The wise Paley once said that if he could make his students aware of the exact nature of a problem, he was halfway to solving it. I hope that by showing readers the kind of God, Christ, and salvation that Luther presents, they will seek a better understanding.
I've mentioned that Luther's name is like gold, and I hope it will bring in readers. But don't think that I'm relying on Luther's reputation to support the truth. Far from it. Just as he rejected the authority of others, I reject his authority and that of any other uninspired teacher.
The fair and legitimate use of human authority is to grab people's attention. When an important man of God speaks, it's worth listening to and considering. But if he were here now, he would say, "Weigh my words against the teachings of Scripture; only accept what I say if it aligns with God's oracles." We should respect the opinions of a godly, God-raised, and God-owned man, but remember that he is still a fallible human. This man carried his fallibility with him to the grave, and it remains not only in his writings but also in the minds of his blindly-devoted followers who agree with him wholeheartedly. "To the law and to the testimony." Good! But that appeal will not guarantee the knowledge of THE TRUTH. Not everyone who studies the Scriptures knows THE TRUTH. It is the Scripture, as we believe it to be revealed to us by the Holy Spirit, that guides our spirit. While we must show respect and obedience to the decisions of a lawfully established human tribunal—even submitting to its punishments, which could destroy our worldly possessions and our flesh—our spirit recognizes no constraints except those imposed by the Spirit.
I present this work, both in regard to Luther and my own part in it, for the reader's thoughtful, patient, and eager consideration. I ask you to compare what is written here with the Scriptures and to bring a prayer with you as you do so: "Lord, help me understand your word; keep me from hastily rejecting anything in this book, even if it contradicts my preconceived opinions; and enable me to welcome, digest, hold fast, and enjoy what is true in it!"
I've already mentioned that my goal was to create a faithful translation, and I believe the Lord has granted me my wish. It goes without saying that this has been a challenging task. Any scholar knows that translation work is incredibly delicate. In every language, there is a specific word that corresponds more accurately to the given one, but it can often take hours of contemplation to find that word. This has been a significant part of my struggle.
Luther's work, more than most, required this level of attention, as he uses many emphatic and unique words. Additionally, his meaning isn't always clear. He also wrote in a dead language, and although he tried his best and was even thought to have had help from the elegant pen of Melancthon, he was not a particularly skilled writer. Furthermore, he uses countless proverbs, some German and some classical.
As a very knowledgeable friend of mine, whom I consulted for help, kindly wrote to me, "The Germans, you know, are great proverbialists, and many of their allusions are now lost. I have searched a great variety of authors, on a similar inquiry (he was kind enough to do so now), but in vain." I, too, have done some research and asked many questions, but have learned nothing. For example, the Wolf and the Nightingale (p. 79), the beast that eats itself (p. 196), and the palm and the gourd (p. 373). My greatest confusion has come from his mixing of old and new, which sometimes led me to follow him like a will o' the wisp, thinking I had a lantern to guide me, only to find myself left in darkness.
I'm afraid my notes might be criticized by two types of readers, both of whom will consider many of them unnecessary. All I can say is that none of them have been included without careful thought and intention. I wanted to prove my accuracy to the learned and provide assistance to the unlearned so they could understand me. The learned must tolerate my tedious dullness, while the unlearned must put up with my Latin and Greek.
Regarding my theological views, I might come across as more assertive and confident than even Luther himself to some people. Let me clarify my position here. I don't claim to be infallible, and I only want my statements to be measured against the Scripture. However, I want to offer my readers the full advantage of the certainty and thoughtfulness with which I've developed, held, and shared my opinions. To do this, I'll avoid using hesitant phrases like "if I'm not mistaken," "I believe it will be found," or "I would venture to affirm." Topics like these require a decisive mindset from the teacher, and if they don't want to encourage doubt in others, their words must convey the unwavering confidence they feel. Moreover, there's a power and significance in truth that both inspires and demands boldness.
Before parting ways with my readers, I'd like them to recognize their debt to the late, esteemed Dean of Carlisle, Dr. Isaac Milner. It's his completion of his brother's valuable history that has provided me with the majority of my information about Luther. His work is a result of extensive research, where he examined numerous original documents and gathered insights from sources that previous historians had left untouched. In doing so, he has defended, illuminated, and celebrated the fearless leader of the Reformation.
Afterword on Plato and Augustine
I have made an effort to help those who may not be knowledgeable or have access to books by providing some information about the various individuals mentioned in this work. There are two main writers I want to focus on: one is Plato, and the other is Augustine. Their fame, as well as Luther's frequent references to them (particularly Augustine), makes it necessary for me to discuss them.
1. Plato, who was indeed a great thinker, did not seem to be well-liked by Luther. Luther was very aware of the harmful effects of Plato's writings, as they encouraged a sense of arrogant self-reliance and contributed to the corruption of the truth by presenting distorted versions of its splendor and attractiveness. In Part IV, Section 52, Luther dismisses Plato's "Chaos," and in Part II, Section 5, he criticizes Plato's "Ideas." Despite this, Plato had some incredible ideas about God - where he got them from is another question. He contemplated God's nature, will, power, and actions, as well as striving for a connection with God and making efforts to improve and uplift the morals of his fellow citizens. Like others who theorized about God without divine guidance, Plato believed that both matter and God were eternal, although he granted God authority over matter and credited Him with shaping the world and bringing it into existence.
Without a doubt, it's quite a peculiar mix he creates - the world having a soul, even a compound soul; humans with their two souls, and secondary causes surrounding a seed of immortality with a material body! But in his 'chaos,' as wild as it is, and the universal soul that was immersed in it, which brought order through its movement, we can see a trace of distorted truth. In his 'ideas,' or 'first forms of things,' we find something even closer to reality - the eternal God designing, establishing, and bringing forth everything that exists. And in his ideal world, where God reigns supreme compared to the visible system and its sun, we get a faint glimpse of the unseen glory and the peace found in the unending contemplation of the resting God.
I'm not trying to bring people back to Platonism, but rather to show them that even the pagan Plato had a deeper understanding and appreciation than many who have been exposed to the true light. I want to help them realize that revelation and tradition have spread much further than they might be aware of, so it shouldn't seem strange if even non-believers are dealt with based on a level of knowledge we might have mistakenly thought they didn't have access to.
The concept of a Trinity, more or less distant from the purity of the Christian faith, has been found to be a central principle in all the ancient schools of philosophy and in the religions of almost all nations. Traces of an early popular belief in it can even be seen in the appalling rituals of idolatrous worship. If reason wasn't enough for this significant discovery, what could be the source of information other than what the Platonists themselves suggest: "a theology delivered from the Gods," i.e., a revelation. This is the explanation that Platonists, who were not Christians, have given for the origin of their master's teachings.
But how could those who lived before Christianity and had no knowledge of the Mosaic teachings obtain their information? Even though some early Church Fathers may have believed otherwise, there is no evidence that Plato or Pythagoras knew about the Mosaic writings. Additionally, the concept of a Trinity can be traced back to an earlier time than Plato, Pythagoras, or even Moses. Their information could only come from traditions based on earlier revelations, from the scattered fragments of the ancient patriarchal belief system - the belief system that was universal before the first idolaters deviated from it. Despite the gross and enormous corruptions of idolatry, this belief system could never be completely erased.
"What Socrates said, what Plato wrote, and what the other pagan philosophers from various nations discussed, is nothing more than the twilight of revelation after the sun of it had set in the race of Noah." (See Horsley's Letters to Priestley, pp. 49, 50.)
I find it surprising that Luther would mock Plato so harshly, especially since his beloved Augustine acknowledged his debt to the philosopher.
"And first, as you showed me how you resist the proud and give grace to the humble, and how great your mercy is shown in the way of humility, you provided me with some of Plato's books translated into Latin through a person filled with philosophical pride. In these books, I read passages about the divine word similar to those in the first chapter of St. John's Gospel, where his eternal divinity was displayed, but not his incarnation, his atonement, his humiliation, and the glorification of his human nature. For you have hidden these things from the wise and prudent and revealed them to babes, so that people might come to you weary and burdened, and you might refresh them... Thus, I began to form better views of the divine nature, even from Plato's writings, just as your people of old took the Egyptians' gold because whatever good there is in anything, it all belongs to you."
At the same time, I managed to avoid the negative influences in those books and didn't pay attention to the Egyptian idols. His historian comments on this, saying, "There's something divinely spiritual about the way he was saved. It's quite remarkable that the Platonic books were the initial trigger, although I think the Latin translation he read had incorporated some scriptural elements, following the style of the Ammonian philosophers."
So, it appears that Plato could provide some guidance to Augustine, even though he himself was far from enlightened. However, we can see that there was truth, and discerning truth, mixed in with his falsehoods.
2. Augustine's mistakes were similar to Luther's, but they were amplified by his lack of understanding of the doctrine of justification. It's said that he had the basic components of this doctrine, but he never managed to put them together.
His story was truly remarkable. After a wild youth filled with excessive partying and indulging in the beliefs of the Manichees, he eventually found himself serving vanity, lust, pride, and atheism. However, he eventually submitted to the true God and embraced His Son. This unique experience prepared him to become a strong advocate for grace, especially against the rise of Pelagianism during his time.
Gradually, he began to use his own experiences to interpret Scripture. As his biographer notes, St. Paul's doctrine of predestination was not something he initially embraced for its own sake, but it eventually became an important part of his beliefs. He defended it passionately, though not in its entirety, against its opponents. In fact, how could he defend the concept of grace (referring to the gift of the Spirit) without it?
According to his biographer, Augustine's understanding of predestination was actually deepened by the controversy surrounding Pelagianism. This demonstrates that not fully knowing the foundation and structure of truth means not fully understanding any aspect of it. His biographer praises him for his moderation, which in this case is another term for his lack of knowledge. However, the truth is that not fully understanding predestination, which is the core "of the mystery of God, and of the Father, and of Christ," meant that he didn't fully understand justification, redemption, the state of humanity, or the grace that he so passionately defended.
The grace of the Spirit (properly called) is just a part of God the Father's grace, given to us in Christ Jesus before the world began. Even with that part, which he spoke about so passionately, he didn't fully understand its source, path, and end. It's one thing to ask why this beloved person was left in ignorance and used that way; it's another thing to accept that he was.
The truth is, both he and his respected partner Luther show that the understanding of divine truth develops over time. Augustine knew things that Cyprian didn't, and Luther knew things that Augustine didn't. So why should the growth of knowledge stop with Luther, Calvin, and Cranmer?
Even though Augustine didn't grasp the full extent of grace, he still celebrated its unconditional nature. With his background, how could he teach anything else? The unique beauty of the Gospel is that it teaches humility and gives God the honor He deserves. Augustine's personal experiences made him especially suited to share this message. He understood human limitations and knew that there was no goodness within himself. As a result, he was perfectly equipped to explain the total corruption and rebellion of human nature, which he knew to be true.
Humility is at the heart of Augustine's teachings. He showed people what it means to be humble before God, doing so with genuine simplicity and profound seriousness. In this regard, no other non-biblical writer has surpassed or even matched him in any era.
Few authors can equal Augustine's ability to describe the inner struggle between the flesh and the spirit. He portrays this conflict in a way that only those who have deeply experienced it can understand. The Pelagian claims of perfection forced him to emphasize that even the most humble and holy individuals must battle against sin throughout their lives.
Augustine enjoys discussing two practical subjects: charity and heavenly-mindedness. He excels in both areas, and his writings consistently demonstrate a focus on the afterlife and deep, humble love. These themes influenced his actions from the moment he converted.
Despite the darkness that surrounded him, God made Augustine a light for the church. For over a thousand years, his writings nurtured the light of divine grace in individuals during a time of widespread superstition. His works were considered second only to the sacred Scriptures and guided those who feared God. There is no other example in history of such widespread benefit to the church from one person's writings.
Augustine is often referred to as "Beatus Augustinus," and his words were considered authoritative by Luther, Calvin, and other leaders of the Reformation. Even eleven hundred years after his death, a quote from Augustine was often enough to end any dispute.